We are firm believers that long-lasting jewelry should be available to everyone. That's why at Yesterdam, our goal is to provide top-quality jewelry without outrageous markups.  We design and source upscale and trendy accessories for everyday wear.
Collapsible content
Design Philosophy

We draw inspiration from various elements that ignite our creativity. From sleek and minimalistic styles to bold and edgy designs, our pieces capture the essence of the modern aesthetic.

Moreover, celestial bodies have always fascinated humanity, and we find inspiration in their mesmerizing beauty. The stars, the moon, and the planets that adorn our night sky serve as a constant reminder of the vastness and mystery of the universe. We strive to create not just jewelry, but wearable works of art that tell stories and evoke emotions.
Carbon Neutrality

Every month, we reduce our carbon emissions by financially supporting conservation projects around the world. These projects include things like planting trees and investing in renewable energy sources that help decrease climate change's impact. We are committed to finding more sustainable solutions to reduce our shipping emissions.
Craftsmanship

We believe that true beauty lies in the details. Each piece is meticulously produced by skilled manufacturers, ensuring unparalleled craftsmanship and attention to detail. Our jewelry is made with top-quality recycled metals such as stainless steel, titanium, sterling silver and/or 18k PVD gold. We stay away from lead, cadmium and nickel. No more green skin!
Warranty

We offer a 60-Day Warranty to replace any jewelry that does not meet your expectations. Our goal is to make things right for you.
WATERPROOF

Yes, you heard that right! We use a coating process called Physical Vapor Deposition (PVD). In this process, our 18k gold is bonded onto surgical grade stainless steel at a very high temperature. Our stainless steel is cadmium, nickel and lead free. During this process, the materials change from a liquid phase to a solid phase at the same time. This makes our jewelry resistant to chips and tarnishing. No more green skin!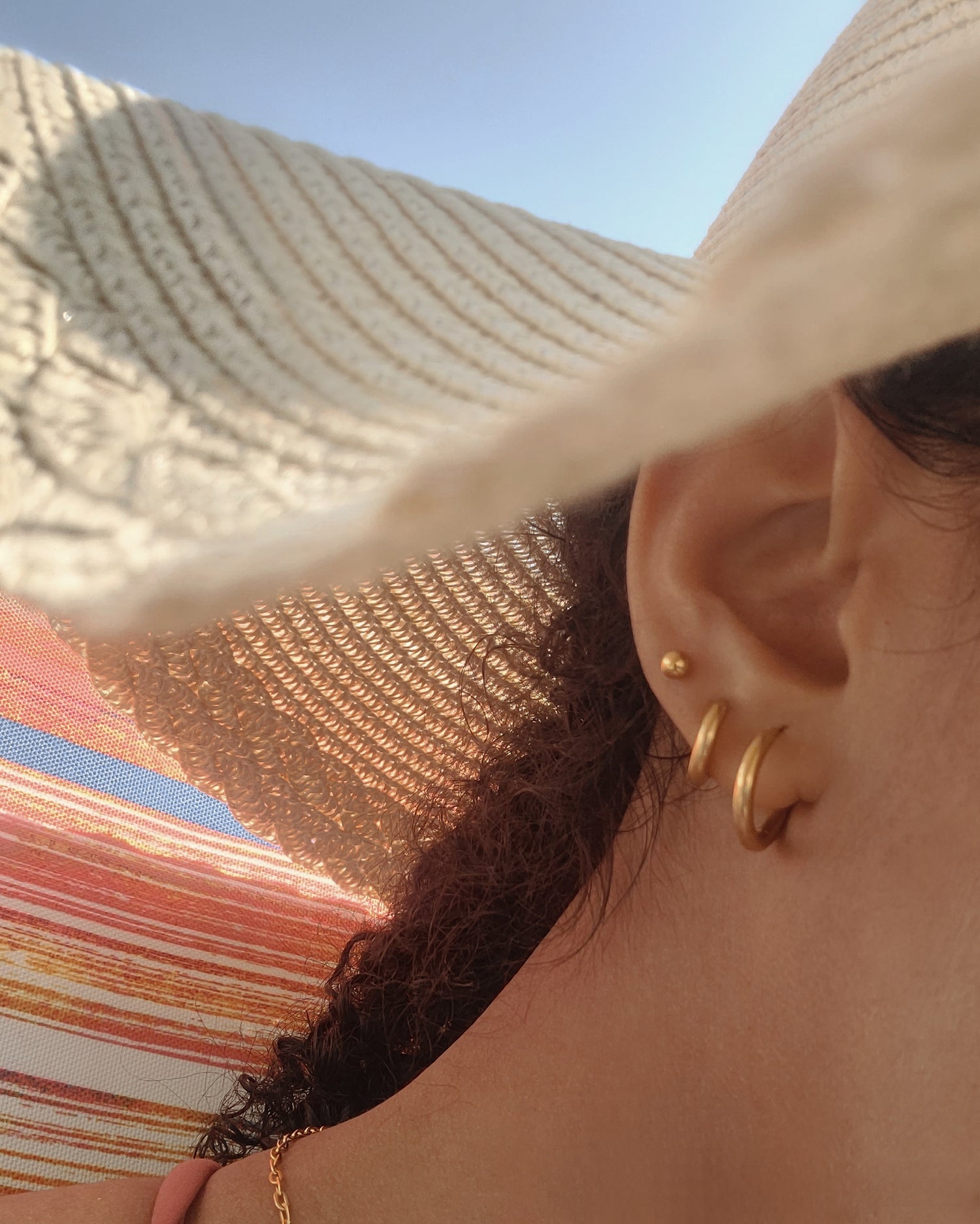 The inspiration for this project came from my love of modern jewelry. As far as career choices, my passion for health and animal care led me to the veterinary field. However, I still wanted to express my passion for contemporary jewelry design. It all started as a side project in 2017, when I started making pieces for my sister and myself. I learned about materials and techniques and became a self-taught jewelry designer. Once I gained more confidence, I began gifting my jewelry to family and friends. Thanks to the encouragement and support I received, Yesterdam was born.
-Anel
Learn More
Location & Studio

Our small production and packaging studio is based in Canada. At the moment our jewelry is sold exclusively online. 
Giving Back

Our contribution to society takes many forms. With the help of certified partners, we calculate the cost of neutralizing the carbon emissions created by our monthly shipments. Those funds are then used to protect forests worldwide. We are always looking for innovative ways to contribute to others and the environment.
Frequently Asked Questions

If you have more questions about our brand or would like to learn more about our policies, please visit our FAQ page. You can also drop us a message at hello@yesterdam.com.